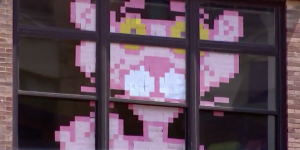 A powerful form of communication, the drawing, has been expressed through the ages. The simplest forms of hieroglyphics and petroglyphs remain thousands of years later on cave walls, in ancient Egyptian tombs, and on rock formations in the American Southwest.
Imagine the surprise and delight of passersby on the streets of New York City's TriBeCa area seeing modern-day "drawings" adorning the windows of two nondescript office buildings. The Wow Factor? Each image was created from Post-It Notes©.
Office workers from two separate businesses in neighboring buildings started the free expression, which has evolved into a fun, friendly competition. Images like the Pink Panther, Batman, a famous Rolling Stones album cover, and dozens more remain on the windows.
Unfortunately, one of the landlords has issued a warning that all images must come down by the end of this month, stating that all windows must remain clear of any decorations or obstructions. (Isn't that what blinds or drapes do yet in a less attractive way?)
NBC News with Lester Holt aired this story on Monday, May 23, 2016. It caught my attention and brought back memories. In the mid-1980s, I served as marketing director for a developer in Cleveland's Historic Warehouse District. To celebrate Preservation Week (held annually in May), we hired local artists to paint art on the windows of one of our vacant buildings to draw attention to our development project. It made the entire block come alive.
What the building owner of the New York City property may not fully appreciate is that this otherwise average brick building is bringing beauty to the street and is making national and international news. That's something to celebrate, not silence. Follow the news on #postitwars.
What creativity do we silence each day in our workplace, in our community and in our home? We can do a better job of listening to and supporting other people's innovative ideas for change. Otherwise we will find ourselves staring at the same old blank walls or windows.