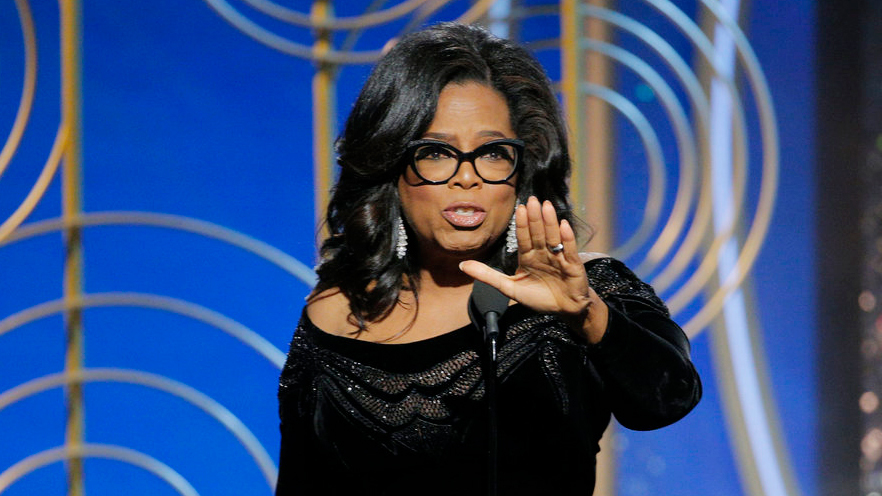 At this year's Golden Globe Awards event, which was held on January 7, 2018, Oprah Winfrey delivered the speech of a lifetime, as the recipient of the Cecile B. DeMille Award for Lifetime Achievement for her accomplished career in television and movies.
This was no ordinary acceptance speech. Her presentation – both in content and delivery – is one that will endure over time as one of the most powerful of its kind, as you can see on video or listen to on Spotify. It was an opportunity for Oprah to use her dedicated time on the platform to share an important message: "Time's Up," a movement begun by women in the entertainment industry to draw attention to and give voice to the pervasive societal issue of sexual harassment and sexual assault. Women attending the Golden Globes event chose to wear black as a visual symbol of their unity and support of Time's Up. Refreshingly, red carpet interviews with celebrities focused on the Times Up message rather than couture dresses. Time better spent.
Here's what made Oprah's speech so successful and why college professors and speech coaches will be referencing it for years to come:
Attention getting. Oprah opened with an anecdote from her childhood. She remembered at that young age watching television, as an Oscar award for best actor was presented to Sidney Poitier, a black man who served as a positive role model for her. Her story tapped into the emotion of the audience.
Clarity of message. In my presentation skills programs, I remind participants to make their message meaningful and memorable through clarity. Oprah's message did just that. She communicated her intent clearly and concisely.
Relevance. A message must be relevant to the needs of the audience. In this case, an audience of millions, from ordinary everyday people to celebrities. Her powerful message resonated with people across cultures and socio-economic classes because the time had come to speak openly about an otherwise hushed subject.
Intentional intonation. A good orator uses the voice as an instrument and masters vocal variety. Oprah's words, so eloquently prepared and delivered, were shared with perfect emphasis and volume.
Use of stories. Stories create an emotional connection with the audience. Oprah shared several stories and personal anecdotes, about her childhood, her hard-working mother, and stories of inspirational female luminaries like Recy Taylor and Rosa Parks.
Selfless content. Oprah's speech wasn't about her; it was about a critical societal issue far greater. Audiences often complain about self-centered presenters, saying "All he did was talk about himself. Blah, blah, blah." Oprah gave voice to a persistent problem in our society, and elevated her message to rise above the ordinary.
Inspiration. Her powerful words provided inspiration to millions of women and girls to speak openly and truthfully about sexually harassment and sexual assault. Those words provided inspiration to all who listened, including men who play an important part in making voices heard. To any disenfranchised people whose voices have gone unheard or who have ever been violated, undervalued or under appreciated in any way there was a recognition that their voices too were being heard.
Power-packed ending. The energy in the room exploded when Oprah emphatically began building her closing remarks with the statement, "A new day is on the horizon…"
So many people were openly inspired and motivated that Oprah's acceptance speech immediately started a speculative buzz about whether she would consider running for President in 2020. To borrow one of Oprah's signature phrases, "This I know for sure"…Words really do have power, tremendous power. Words can spark curiosity, command attention, and motivate others to take action. Words can take you to places where you never before imagined or dreamed.
Questions:
In what way can you incorporate more power into your presentations?
How can you better motivate and inspire others to take action?
Photo credit: Paul Drinkwater, NBC News