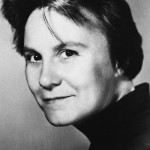 Thank you, Nelle Harper Lee, for opening our eyes to social injustice in the South in your Pulitzer Prize winning novel, To Kill a Mockingbird. The book has remained on the required reading list of just about every school in America for decades. Lee, who died on February 19 at the age of 89, leaves an indelible mark on American literature.
Lee's book was released in 1961. Just one year later, To Kill a Mockingbird was released as a movie, starring Gregory Peck as a well respected white attorney, Atticus Finch, in a small Alabama town, representing a black man wrongly accused of raping a white woman. Peck's portrayal of Atticus Finch earned him an Academy Award for best actor. It was the humanity demonstrated by Atticus Finch that drew him close to our hearts: a professional man who treated each human being fairly and with respect, regardless of race, religion or economic status.
To Kill a Mockingbird is just as relevant today – 60+ years later – as it was when it was first released. It reminds us of the struggle and tremendous work behind our country's civil rights movement. Exceptional literature challenges your thinking and opens your eyes, mind and heart to a different perspective, and expands your worldview.
When Lee's Go Set a Watchman was published in 2015, some fans were disappointed to learn that their beloved Atticus Finch was portrayed as a different character altogether, a bigot and a racist. The book's release now encourages us as readers to look at each piece of literature on its own and have a conversation. An excellent comparative analysis by Jonathan Sturgeon on Mockingbird and Watchman sheds light on the story behind the creation of the two books.
Millions of high school kids who were required to read Mockingbird thank you, Miss Lee, for educating them about social injustice. And for all those who faced discrimination, racism or bigotry, they thank you for giving voice to their lived experience.
Thank you, Miss Lee, for courageously saying what few people would at the time. Americans of all ages and backgrounds today are still learning the lessons from To Kill a Mockingbird and now Go Set a Watchman. Thank you for initiating the dialogue.