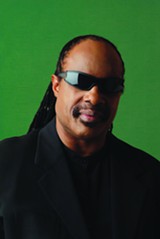 Is it any wonder that a blind man can show others how to open their eyes and see the world with compassion, joy and love? Acclaimed songwriter, singer and 22-time Grammy Award winner Stevie Wonder was honored recently for his musical genius spanning more than five decades. His messages of acceptance, understanding and love have taught generations to face inequality, injustice and indignity with unified strength and grace.
His honest interpretation of the world as he saw it encouraged people of color to stand up and let their voices be heard. To the audience of privilege and perfection, he exposed them to the reality of life in the city for the poor, the forgotten and the invisible. His music range, as a solo artist, is unparalleled. He wrote openly of indifference. He wrote of political action and justice. He wrote so eloquently of love, birth and renewal. He wrote songs of hope, light and possibilities.
I remember watching "Little Stevie Wonder" perform Fingertips on the Ed Sullivan Show when I was growing up. His passion for the music, his gyrations to the crisp notes flying from his harmonica made me stop and notice. He was just two years older than me, and already a force to be reckoned with. Nothing stopped him from sharing his musical messages with the masses. He remains one of the most beloved artists – and greatest crossover artists – of all time.
My husband, Mark, and I have shared a love of Stevie Wonder's music over the decades of our relationship. To this day, Ribbon in the Sky remains my all-time favorite. Mark's favorite (and he requests it at every event we attend that has a DJ) is Superstition. When we finished watching the CBS-TV broadcast on Monday night, I turned to Mark and said, "We need to play Stevie Wonder's music more often!" He nodded in agreement.
There are so many lessons we can learn from Stevie Wonder. For me, the greatest lesson he has demonstrated: Lead by example. He is a man who has remained authentic throughout his entire life. He has shared his vision of a peaceful planet with millions of people around the world. He remains an inspiration to us all and a cherished national – and international – treasure. Rock on, Stevie!