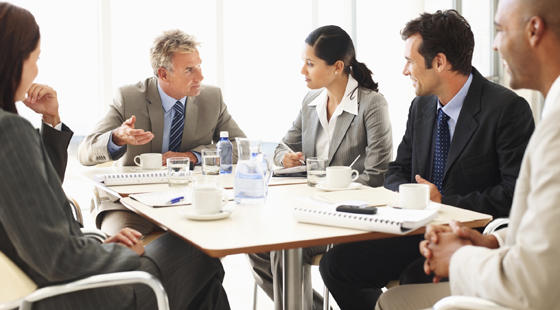 Your success as a business professional and a leader is linked with your ability to communicate well.
More and more, people today are lazy listeners. If they don't understand what you're talking about, they won't ask you to clarify anything. They will simply nod their heads and lead you to believe that they heard and understood exactly what you said. Unaware, everyone goes about their business, making mistakes and misinterpreting instructions…and it's all avoidable.
It's up to you to communicate clearly and concisely. Here are a few tips to help you become a better communicator:
Use specific language. Rather than vague, ambiguous, generic words, use words that specifically convey your message. For example, you could say, "The real issue here is change. Our customer base has changed. That means it's time for us to change." What does that mean? Just by repeating the word "change" three times does not mean that you have a point (or that your message contains any real content). The statement is vapid and meaningless. Guaranteed, people will scratch their heads, wondering what you are saying. A better approach would be a laser-sharp, focused message like this: "The needs of our customers have changed, so we must adapt to their needs. They value time and demand savings. Let's shorten our turnaround time and include free shipping on every order." The message is much clearer. There is no gray area.
Hold attention. Of the three primary ways people learn – visual, auditory and kinesthetic – about three-quarters of people have to see it to remember it. Our highly visual culture reminds us of this, as messages appear on rapidly-changing electronic billboards, websites that contain shifting images, and fast-paced, image-driven commercials that last 15 seconds or less. How are you getting and holding attention?
Paint a visual picture. Some words help to paint a visual picture when you have no PowerPoint to share, like "Remember," "Visualize," and "Imagine." If you say, "Remember when you were a teenager and sat behind the wheel of a car for the first time?" your audience is right back in the seat of that car, remembering the experience. Visual words tap into the visual cortex and give the mind permission to create an image or recall one.
Use action verbs. The opposite of action verbs is passive language. Passive words include Maybe, Guess, Probably, Possibly, Pretty, Kind of, Sort of. This is tentative language. There is no clear commitment that's put forth. If you say, "I think I could probably have that report on your desk, maybe, by Friday afternoon," your boss will not have the faith or confidence that you will deliver. If, instead, you say, "I will have that report on your desk by end of business on Friday," your boss will know that she will receive your report on Friday. People in leadership positions use more direct, active language. Immediately after covering the topic of active language in one of my workshops, a participant said to me on the break, "We had a pretty successful meeting with one of our top clients." I turned to him, smiling, and asked, "Pretty? You had a pretty successful meeting? Or…a successful meeting?" Realizing what he had done, and with a wide grin he corrected himself and said, "Yes. We had a successful meeting with one of our top clients." And yes, his revised statement was much more powerful.
Listen to your language. Are you sabotaging your own success by using vague, ambiguous, weak, tentative or passive language? Or are you thinking before you speak, and making your messages more powerful, using specific, direct action language? Be aware of your language, decide what messages you want to share, and focus on desired results. You will quickly gain a reputation among your team and senior leadership that you are a clear, concise communicator.