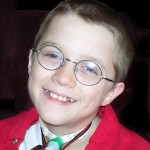 Ten years ago this week, America lost a young hero, Mattie Stepanek. His name may not be widely recognized, yet, his poetry and his passion for life touched the hearts of young and old alike. Mattie Stepanek achieved more in his short life – just 13 years – than most do in a lifetime.
I first discovered the poetry of Mattie Stepanek while standing in a bookstore in 2001. A table near the front door was filled with dozens of copies of a featured book entitled Heartsongs. It was the cover's whimsical design and vibrant colors that captured my attention. I opened to the first page of the book. Greeting me was a photograph of the author, Matthew Joseph Thaddeus Stepanek, along with his biography. I began reading his heartwarming story. In this book of poetry, I selected and read several poems. As I read his story, I learned that Mattie was born with a rare disease, Dysautonomic Mytichondrial Myopathy, which interrupts the body's automatic functions, like breathing, heart rate, blood pressure and digestion. It also causes muscle weakness.
Mattie began writing poetry at the age of three. From an early age, he accepted his disease, even though he required a ventilator, regular blood transfusions, medicine, therapy, leg braces and eventually a specially designed power wheelchair. As a prolific author of several New York Times best sellers, he appeared on all of the major television networks (yes, he appeared on Oprah), cable and radio stations and was featured in most major print publications.
His message was simple: Love life and love one another. Despite a life-threatening disease, he joyously embraced life and treasured each day. The disease claimed the lives of Mattie's three older siblings and then in 2004, it claimed his life. He wrote seven books and created several audio recordings. He regarded himself as a peacemaker because he truly cared about the global community.
I keep his poetry books on my bedroom nightstand, ready to be picked up and read any time I need to listen to Mattie's words of hope, love and joy. To learn more about Mattie's legacy and the continuing work of his mother, Jeni Stepanek, Ph.D., and the Mattie J.T. Stepanek Foundation, visit www.mattieonline.com. Be sure to sign the petition by July 17, 2014 to officially create a Mattie J.T. Stepanek Peace Day.
"Peace is possible…it can begin simply over a game of chess and a cup of tea." Mattie J.T. Stepanek
Photo: Mattieonline.com