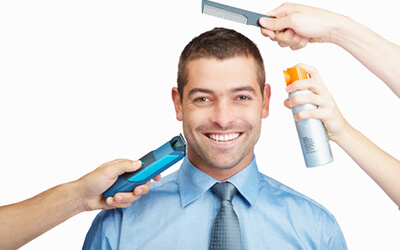 With companies adopting a more casual dress code, some workers are becoming more casual about their grooming habits. Personal hygiene lies at the very center of a professional image. It's not just the clothing that is worn; it's what's underneath it all. If you work with someone who needs guidance, initiate a confidential conversation to reinforce the message that good grooming habits have a positive impact on career growth.
Good grooming habits begin with basic cleanliness and continue with maintenance of one's body and clothing. With your team member, do a quick mental scan right now, from head to toe. Body Health: Hair. Skin. Nails. Teeth. Clothing/Outer wear: Clean. Pressed. Stain-free. Also consider shoes, cologne, accessories, jewelry, and make-up for women. What's your final assessment?
I have witnessed plenty of bad grooming habits throughout my professional career. Here are a few of my most memorable:
Bad Teeth. During one of my recent presentation skills seminars, a man in his mid-40s, delivered his presentation with his shoulders rounded, head down, with little eye contact, no smile, and weak vocal delivery. When I shared my observations during our private one-on-one evaluation, he opened up and confided in me that his teeth were really bad, that he was embarrassed, and that he was finally going to the dentist to have them fixed. I felt sad and happy at the same time; sad that he had waited many years to fix his teeth, sad that he may have missed some promotions or better job opportunities along the way, and happy that he was finally doing something about it. Interpersonal communication is a vital part of your life and career, so invest in basic dental care to enhance your image.
Heavy Cologne. Years ago, when I served on a selection committee for a new hire, there was one applicant who stood out, and she didn't stand out for the right reason. Her cologne reached the conference room long before she did. By the time she arrived, the entire room was filled with a strong musky scent. It was a short interview, and she did not get the job. Over-use of a fragrance can completely shift first impressions. More companies are initiating a fragrance-free work environment because strong fragrance can create unpleasant surroundings.
Clean Yet Stinky. Years ago, I worked alongside a new employee who was delightful and hard-working. It was her first job. Everyone loved her enthusiasm, accuracy and efficiency. Yet we noticed one thing: Her body odor. We asked the oldest woman of our group to have a conversation with this young woman. We felt the news might be better received if it came from a wise sage. This was the right choice. When the news was shared, it was revealed that, although this young woman bathed daily, she wore her clothes several times before cleaning them. That meant that all of the oils from her body, along with perspiration odors, marinated in her clothing. When she put dirty clothes back on her body, it was as if she never bathed. After the conversation, she returned to the office like a new woman. From that moment on, her body and her clothing were clean and fresh. An added bonus: The conversation and the shift in personal hygiene boosted her self-confidence.
How can you help someone who needs a gentle nudge? Initiate a critical conversation by following this simple process:
Be kind. Whatever information you share, demonstrate respect and kindness; do not be judgmental.
Begin with a positive statement. "You are a valuable team member" or "You are doing an excellent job."
Share specific feedback. "May I offer you some feedback about your personal style?" Once a response is given, add "I have noticed that…" "Are you aware of that?" Wait for a response. Avoid saying "Several people have mentioned to me" or "We have noticed" because you want to ensure that you are building trust in your relationship.
Ask for feedback. See how the person is receiving the information.
Receive feedback without judgment. "Now that I have shared my thoughts with you, what are you thinking?" Wait for a response.
Offer additional help. "May I offer some suggestions?" "How can I help you?"
Keep the conversation going. When you initiate a private conversation about a delicate topic like personal hygiene and grooming, you are deepening the level of trust with that other person. Keep the lines of communication open.
A confidential conversation like this, when it is shared with kindness and concern, can transform another person's life and offer new career possibilities.