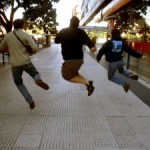 Something bizarre happens to us as we enter adulthood. We are transformed from carefree youths into serious adults, believing that's what society expects of us. Yet, it if we set aside time every day or a few times each week to play, what a difference that would make in our attitude and our overall well-being. The National Institute for Play says that play can, in essence, make us smarter. Have you played Frisbee lately? When was the last time you played shuffleboard, squash, badminton or croquet? Blown bubbles? Played a word game like Boggle or Scrabble?
The historic "Northeast Blackout" power outage in August, 2003 affected more than 55 million people in eight U.S. Northeastern and Midwestern states and the Canadian province of Ontario. This forced my husband Mark and me to play the word game Boggle by candlelight. It was so much fun. The game had remained in our closet untouched for years. Now, we pull out the Boggle game from the bookshelf regularly and spend time playing it. We also enjoy joining our friend John at his regularly scheduled Game Nights at his home.
Richard Tait, co-founder of the popular game Cranium, says, "Play is a basic need, just like air, water, and the five food groups." When was the last time you played? Gazed at the stars? Looked at clouds and figured out what they could be? Find a way to play every day (even if it's for five or ten minutes) and you will experience a positive difference in your attitude and health.