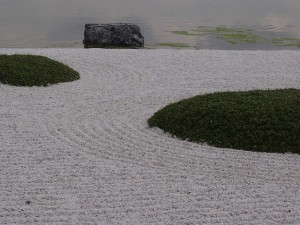 The word "Zen" conjures up images of quiet solitude, peacefulness and mindfulness. When we think of a Zen garden, for instance, we imagine a beautiful garden that evokes that solitude and peacefulness, a place where the mind, body and spirit can rest and replenish. The garden becomes an anchor, a place for focused concentration.
When I traveled to Japan for business more than two decades ago, my business associates and I visited some of the most beautiful Zen gardens and temples in Tokyo, Kyoto and Osaka. Whenever my head gets too full, I simply mentally return to one of those gardens for inspiration and clarity.
The beauty of a portable Zen space is that you always have it and can retrieve it as you take one deep breath. If you feel like you are rushing through the day, or your adrenaline is pumping because you are nervous or agitated, do this simple exercise:
With both hands held in front of you, at eye level, palms facing toward you, fingertips touching your thumb, eyes closed, slowly take in a deep belly breath. As you begin to exhale, make an extended sound, "Oh-m-m-m-m," using up all of your breath while moving your hands down toward your lap to create an invisible curtain in front of you. By the time your hands reach your lap, you will be out of air and sound. It will clear your mind and help you to focus. Inhale and repeat if you need to. If you prefer, you can eliminate the audible "Ohm" sound and simply think the sound as you exhale.
One final question for you: What are the specific benefits that mental clarity could bring to you? List at least a dozen benefits to you.