For one day each year the world watches the Academy Awards televised broadcast (and streaming video) with great anticipation. Who will stroll down the red carpet? What divine designs will women wear? What will the Oscar winners say during their acceptance speeches?
This year I was pleasantly surprised that several celebrities colored outside the lines a bit and delivered thoughtful, heartfelt acceptance speeches. In years past, I often marveled at the speech-less-ness of award recipients who inserted awkward uh's, um's, you know's, and oh's as they stumbled through the most important speech they would ever make. Not this year. Instead of the ordinary, "I would like to thank my agent, and I would like to thank my director, and I would like to thank my fellow cast members…", the messages were clear and thought provoking. Here are my top picks, in no particular order:
Patricia Arquette (Best Supporting Actress, Boyhood): Arquette used her limited time on the platform to espouse equal pay. Even Meryl Streep shouted a resounding "Yes!!" from her front-row seat.
Common and John Legend (Best Song, Glory, Selma): Co-writers and performers Common and Legend reminded us that 50 years after the historic walk in Selma, our country and the world still struggles with racial injustice and inequality. Their words encouraged us to reflect on what we can do as individuals to continue the fight.
Julianne Moore (Best Actress, Still Alice): My mother-in-law, who passed away in 2013, had Alzheimer's, so I was pleased to hear Julianne Moore use some of her acceptance speech to educate the audience about the disease.
J.K. Simmons (Best Supporting Actor, Whiplash): Simmons urged viewers around the world to call their mom or dad if they are fortunate enough to still have them on this Earth. I love calling my 94-year-old mom. My dad? I talk to him too and have been reunited with him several times in my dreams.
Graham Moore (Best Screenplay Adaptation, The Imitation Game): Moore spoke openly about his attempt at age 16 to commit suicide. That took courage. He encouraged the audience to celebrate what makes anyone unique and to be more open minded in trying to understand others who are different.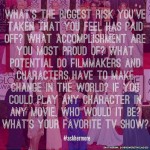 Reese Witherspoon: Although her work in Wild did not earn her an Oscar, her voice was heard more from the red carpet and social media than from the stage. Witherspoon posted an Instagram supporting #AskHerMore, part of The Representation Project started last year by Amy Poehler's Smart Girls. The Instagram encouraged red carpet interviewers to ask deeper questions than just "Who are you wearing?"
Watching the Academy Awards got me thinking: If you were standing on a platform that could reach millions of people around the world, what powerful message – of hope or change – would you choose to share with your audience?