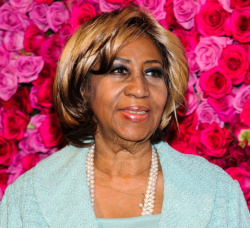 There is a saying, "Your brand is what people say about you after you have left the room."
Two great American icons left us recently, and they leave behind a legacy etched into our national psyche forever.
Over the weekend, the life of Aretha Franklin, the Queen of Soul, was celebrated in high style in Detroit, her adopted city. At the same time, the life of one of America's greatest public servants and statesmen, Senator John McCain, was being celebrated. How interesting that the lives of two people who were so different in career choice and personal style yet similar in the fullness of their lives, should pass and be celebrated simultaneously. Looking at their lives inspires us to look at our own.
As friends, colleagues, and relatives honored these two gifted professionals, I listened carefully to the words that they chose to describe two lives well lived.
Aretha Franklin's interpretation of a song came from her heart and soul, deeply expressing the emotion behind the melody and the words. Yes, she knew how to rock steady. Her music appealed to international, intercultural, and intergenerational audiences. As her friends and family members celebrated her life, these are the words that stood out:
Talented
Soulful
Gifted
Treasure
Friend
Diva
Professional
Love
Devoted
Perfection
John McCain's life story is an American story. He first chose a military life, then one of public service, working hard for the American people. He was admired and respected by colleagues from across the political spectrum. With John McCain, the theme that ran through his life's celebration was pure American. Here are the words that reflect his life:
Patriot
Statesman
Public servant
Loyal
Values-driven
Integrity
Love
Funny
Dedicated
Friend
Hero
What did these two American icons have in common? Passion for their work. Love of people. Service to others. Authenticity. They each had an uncanny ability to bring people together – one through music, one through public service.
The American songbook would be incomplete without Aretha Franklin's incredibly rich, diverse range. Her music stirred our souls. She could sing any genre of music and effortlessly switch from one to another. Aretha's brand image was the Queen of Soul.
American society would not be as good and decent without John McCain's political leadership. His work improved our lives. John's brand image was American statesman.
Though physically gone, their life's work lives on. Their names will be remembered, their voices will be heard, and their stories will be told for generations to come.
Those who spoke at both memorial services mentioned what a privilege it was for all of us to have lived at the same time as these two great American icons. Every now and then, we are reminded that we choose how to live our lives. To take the high road or the low road. To move forward or stay stuck. To live life fully or just skim the surface. To be positive or negative. To make friends or enemies. To share our gifts with the world or keep them hidden.
The next time someone introduces you to another person, listen to the words that person uses to describe you. You might learn something new about yourself. What will people say about you when you're gone? What legacy will you leave?