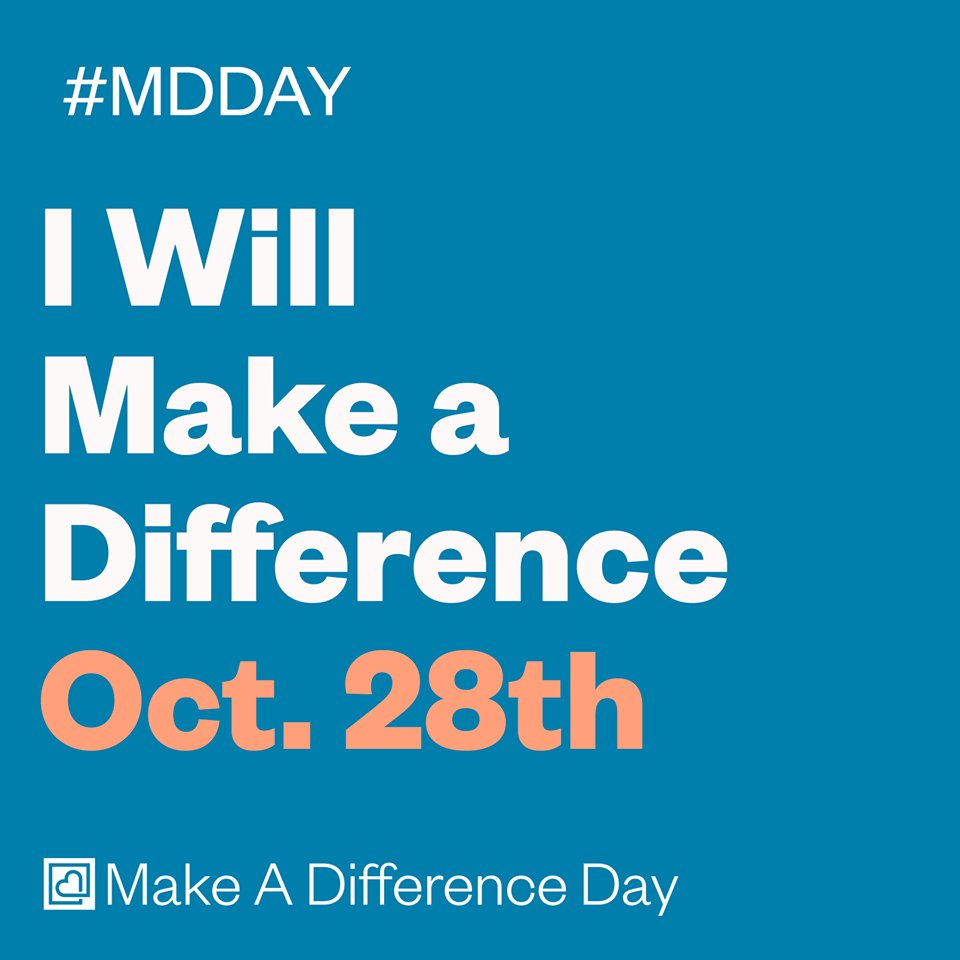 Saturday, October 28, 2017, is Make A Difference Day. Twitter: #MDDay. This event is one of the largest single days of service across the country. Projects range from cleaning up public parks and building homes to serving meals to the needy. The annual event began in 1992, sponsored by TEGNA, Inc. with the support of Arby's Foundation and Points of Light.
You can either start a project or volunteer for a project that is already organized. Find a project in your community here from the Make A Difference website. When I searched for events in my zip code, I discovered 20 projects that are happening in my area, from park clean-up and reading to underprivileged children to building an inner-city garden hoop house and knitting warm scarves and mittens for the homeless. Also, check your local television stations, radio stations, public libraries, schools, park systems, or nonprofit organizations to find projects right in your community. Or if you are feeling ambitious and want to travel out-of-state, participate in a larger scale project or historic site preservation. You will feel inspired when you read the stories about the 2016 project awards.
Beyond this one national day of service, consider simple things that you can do to be of service to others every day.
At the end of the day today, take a few minutes to pause and reflect on what difference you have made – in the lives of people who you have touched or in your community. When you invest that time in assessing your impact on the world around you, you will value and appreciate your many contributions. You will feel great pride in what you do. You will inspire and motivate others to do more.
First, it begins with you. Take care of yourself and your health so that you can continue your good work. What did you do for yourself today that made you feel good about yourself? Did you start your day with nutritious food? Did you walk a few laps around your neighborhood to improve your stamina?
What did you do for others today that brought you joy? It could be something simple like packing a note in your child's lunch, or involving a neighborhood in creating a delicious meal together. Did you open the door for a disabled person at the office? Did you help an elderly person carry her food tray to her table? Did you stop and visit a friend or relative who lives alone and enjoys your companionship? Did you give someone a chance to lead others because you believe in that person?
What did you do for your community today that made a difference? Did you bring your talents to a nonprofit organization's board? Did you help to make an important decision that will have a positive impact on your community? Did you volunteer at a local fundraising event? Did you help build a home for a family in need?
If you want to invest more time in making a difference, then focus on that outcome. When you choose to do more for others, to make someone else's life more comfortable, or to make your community a better place, the opportunities will come to you. You can also bring your own big ideas into fruition. Anything is possible when you have a strong desire to make positive change a habit.