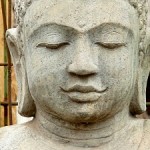 Do you really need the concentration of a Buddhist monk to benefit from mindful meditation? Not at all.
I meditate just 10-15 minutes each morning and find myself more relaxed, focused and energized as I tackle the day. So can you. Replace the daunting word "meditation" with "mindfulness", which is simply the ability to focus on the present moment. Anyone can do that, and you don't need a saffron robe or years of selfless dedication to see results. Try the following for the next two weeks and you'll be pleasantly surprised by how you can begin your day more relaxed and less stressed.
Below are tips to starting your mindfulness practice. Remember, it is an ongoing practice, so don't worry about "perfecting" anything. It's the practice that brings results.
Here's how:
• Sit in an upright, stable position, hands resting lightly on your thighs. You can do the cross legged thing on a carpet, but I recommend sitting in a straight backed chair, bare feet on the ground (socks are ok, too). It's safer to sit in a chair and lot easier on the knees.
• Lower your eyes so they are barely open or close your eyes altogether, whatever works best for you.
• Pay attention to your breath, and follow its movement throughout your body. Breathe in slowly through your nose, filling your belly (diaphragm) with air, then slowly exhale through your mouth. You can count to ten silently on the exhale, if you like.
• Notice the sensations around your belly as the air flows into and out of your nose and mouth. We take our breathing for granted, so use this time to really notice your breath.
• Select one area of your body affected by your breathing (your lungs, throat, belly, etc.) and focus your attention there. Breathe slowly. You are focusing on a single area of your body, not the breathing itself.
• When you notice your mind wandering (believe me, it will), bring your attention back to your breath and then to the selected area of your body.
• After 5-10 minutes, switch from focusing to "monitoring". Consider your mind as a vast, open sky and your thoughts, feelings and sensations as passing clouds.
• Feel your entire body move with your breath. Notice your sensations. Be attentive to the changing quality of the experience, such as ambient sounds, aromas, a breeze, even fleeting thoughts. Do this for roughly another five minutes.
• Slowly, focus on your breath once more, then gently open your eyes. Continue to breathe deeply for a minute or too, then complete your waking mindfulness. Pay close attention to the first thoughts that enter your mind and how you feel about them. If it's an important task or a niggling worry, don't judge the thought, just breathe in and exhale deeply. Now, on with your day…
NOTE: If you're enjoying this practice, add another 10-15 minutes before you go to sleep at night. It's a great way to release the tension and stress of the day and prepare your body and mind for deep, rejuvenating sleep.