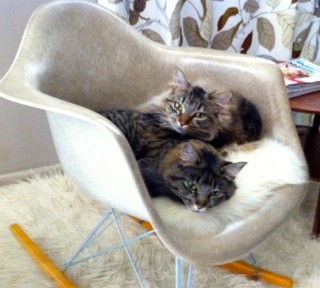 The wisdom of the universe resides in cats. 
It seems that whenever I'm letting stress overwhelm me or I feel the need to control my world, a cat appears. It could be a stray looking for milk, a feline who just adopted one of our neighbors, or the feral kittens that my wife and I discovered living in a crawl space next to our outdoor deck in May, 2010.
Hearing their mewling calls – often frail and pleading, sometimes insistent, shocked me out of my self absorption and once again put life and my place here into perspective. "At this moment," the universe prodded, "Your role, and that of your wife, Christine, is to protect these little furballs, give them medical treatment, food and love. After that, we'll see how the story unfolds."  I sigh, then silently agree. I consider this a small karmic repayment for our wonderful life, one that was made even richer in the 1980s, courtesy of a 14-pound furry Buddha with golden eyes.
The kids in the neighborhood named him Peanut because his long silky coat was the color of peanut butter. A neighbor who owned Peanut decided one day that he was no longer the preferred house pet and cast him into the outdoor world. He didn't seem to mind, stopping by our house for food, a few strokes of the head and a sunny spot to lie in. A few months later, the realities of a bitter winter and predators set in. Christine and I discovered Peanut limping through 6″ of fresh snow, leaving blood stains with every foot step. At that moment, he became our cat. We quickly discovered that Peanut was not a cat at all. He didn't meow, loved getting wet and taking rides in the car (straddling my lap as I drove and sticking his nose out the window), and was in fact an old soul brought into our lives to teach us how to live. Peanut lived to the ripe old age of 15 and taught us many lessons, including:
Meditate often – How often do you meet a stressed out cat? Even by cat standards, Peanut was mellow. His lesson: When the stress of the day bears down, get up, stretch, look for a snack, then find a warm spot to close your eyes and think of nothing. This is the essence of successful meditation, being completely present in the present. Relax, slow your breathing and make soft purring sounds.
Conserve your energy – There's no need to expend valuable energy worrying about "what if." Store your precious energy and use it when the time is right to take a leap into an exciting new adventure.
Enjoy and appreciate every moment – Peanut was a big John Lennon fan. He would listen to John and the rest of the Beatles for hours on end. When I recited John's mantras "All you need is love" and "Life is what happens while you're busy making other plans," Peanut would wink approvingly. I could go on and on about our first feline philosopher, but our current house Buddhas, Gidget and Gizmo, whom we rescued from under the deck nearly three years ago, are reminding me that it's time for dinner…