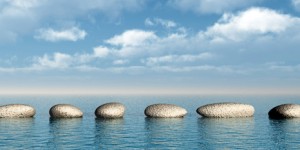 Decades ago when I tried to wrap my young mind around Philosophy 101, I struggled to understand its inherent polarities, complexities and of course the never-ending string of thought-provoking questions asked by my professor. At 19, I saw the sky as the sky and that was it. I hadn't yet explored why the sky existed, how far it extended or if a parallel universe existed. Over the years, I have continued my fascination with the field of philosophy and the brilliant minds who have explored – and continue to explore –  inquiry, knowledge and thought.
In recent years, I have enjoyed the various 21-day meditation series created and hosted by Deepak Chopra and Oprah Winfrey. They often include the Sanskrit Mantra "So Hum,"  which simply means "I am."
Such a simple statement, yet within it lies a vast terrain for contemplation and exploration.
In my professional presentations, I often begin with an engaging kick-off activity that asks audience members to think of a word or phrase that best describes who they think they are. Then I ask them to pair up with another person in the room to describe each other with just one word or phrase, always in writing, never spoken. They do several rounds of this, with different partners, before revealing to each other how other people described them. The activity has the same result: Surprise and delight. People come away from the activity feeling validated. Often their perception of self comes close to what other people perceived. Once in a while there are some differences. The activity drives home the point that perception and reality are not always exactly the same.
People's responses to this activity reinforce the notion that we are conditioned to believe that we must be validated by others to feel whole and complete. The human brain is designed to "name" and categorize every living being, object or experience. We create and attach labels to every thought and the brain stores that information for future retrieval (if retrieved at all).
While this activity has positive, consistent results, it reminds me that when we are truly whole and complete, there is no need to fill in the blank. We are enough as is. We simply say with immense satisfaction and fulfillment, "I am."
Are you?