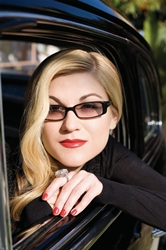 Can music heal a broken brain? Even save a life?
Ask Melody Gardot. Nearly 10 years ago, as a college student in Philadelphia, she was riding her bike through an intersection, when a Jeep ran a red light. "And the next thing is, I remember I heard this sound, and I thought, 'Who is that? What is that?' And I realized that it was me screaming," Gardot explained. The accident fractured her pelvis, damaged her spine, and Gardot suffered a traumatic brain injury that affected her memory, her speech, and left her hypersensitive to light and sound.
"My mother dropped a dish on the floor one day and the sound made me collapse," Gardot said.The prognosis at the University of Medicine and Dentistry of New Jersey was not good. When he first saw her, Dr. Richard Jermyn didn't think she would recover. "I had hope," he said. "And as I told Melody at the time, I said 'Your brain is like a computer. And your computer's still intact. Your hardware, your memory, it's there. But you can't access it.' That's what a brain injury does – It takes away your ability to access."Therapy and drugs had failed. In desperation, Dr. Jermyn suggested Melody try music. As it turns out, she had played piano in college. "It's a different part of your brain that perceives music," said Dr. Jermyn, who recalled Gardot returned to him to say, '"The music is there.'"
Gardot never gave up. Slowly . . . it would take years . . . music therapy began to rebuild the neural pathways in her brain. From the wreckage of the accident, a musical career was born. When her songs were posted on MySpace in 2006, word spread quickly.
She said when she went onstage, "The first maybe half a dozen times experiencing this, that was the only 30 minutes in my life that I did not feel pain for that moment. And it was addictive." She still has to wear dark classes because of her sensitivity to light, and carry the cane to counter occasional attacks of vertigo. But she wears her disability with style. During a CBS interview, Gardot wore a white fedora, skin tight black mini skirt, fishnet stockings and stop-you-in-your-tracks stiletto heels."These are like Corvettes," she said. "I don't drive so well. So instead of collecting cars, I collect shoes."
Not the most practical footwear for a singer who at 28 needs to walk with a cane. Her singular style coupled with that bourbon smooth voice can make you forget Melody Gardot lives with almost constant physical pain. For her part, Melody shrugs it off. "I went to the school of hard knocks. I don't mess around."
Melody has produced three albums on Verve Records. Worrisome Heart, 2008, My One and Only Thrill, 2009 and The Absence, 2012. Although Melody isn't a mega star in the US (yet), her album My One and Only Thrill went double platinum in France.  She's sold more than 200,000 copies there, and counting. The French call it "Renaissance" – a rebirth. It's not much of a stretch to say that Melody Gardot has been born again.