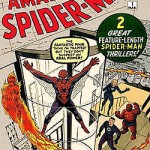 Look! Up in the sky! It's 50-something man!

Ok, so my 57th birthday on July 1 didn't elicit exclamations from swooning women or awestruck kids.
Holy lowered expectations, Batman! Since it isn't always easy feeling super in our youth-obsessed culture, it's comforting to know that I'm not the only guy reflecting on his age. Peter Parker, the socially challenged science nerd who just happened to get in the way of a radioactive spider and absorbed its powers turns 50 this year. Happy birthday, Spidey!
Although I haven't read a "funny book" in ages (today's term is "graphic novel" – Bazinga!), as a birthday treat I dipped into my modest collection of comix and pulled out Amazing Spiderman #3 from 1964. Take that, evil Gen-Xers and Millennials!  Thumbing through my retirement hedge, er, comic books, fills me with the exuberance of ten mortals. Go ahead, unleash your worst, Green Goblin, I'm feeling invincible. Ok, maybe not invincible, but at this moment I barely notice my swollen joints and expanding waistline (sigh).
I prefer to think of myself as someone who understands the mid-life angst of the "younger" superheroes. Not that age is slowing down any of my favorite costumed crusaders. Heck, Superman just turned 75 and he's starring in his own summer blockbuster. Oh, and let's not forget the original Avengers who turned 50 this year and are going strong. Iron Man, the Hulk and Thor have all gotten their mojo back and are thrilling a new generation of movie goers. That said, I'm not sure what happened to Ant-Man, one of the original members. Hope he has a decent pension. Even several mutants hit the big 5-0 this year and I'm happy to report that it's done nothing to slow down the burgeoning X-Men franchise.
I guess what I'm saying is that it's a stupendous, colossal, action-packed privilege to put another notch in my utility belt and celebrate 2013 on planet earth. After all, 60 is still a long way off, isn't it?