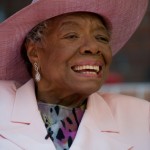 The world is still mourning the loss of the humanitarian and inspirational leader Maya Angelou. Some might say she had too much talent for one person, for one lifetime, yet she wore each with uncompromising grace and dignity: social activist, author, poet, actress, dancer and advocate, an eloquent elocutionist, whose words mesmerized and delighted. While her commanding presence filled any space with resonant sound, she remained humble and one of us. She invited us to sit at the table and enjoy open dialogue and debate.
Maya Angelou's inimitable, expressive voice accompanied me on a long business trip to Indiana a number of years ago. I felt like I had a friend along for the ride as I listened to Hallelujah! The Welcome Table. Through my own laughter and tears, she made the trip go by quickly. Her lived experience taught many lessons. While this international treasure is gone, her words and her voice will live on forever, inspiring and motivating people to live their lives to the fullest, to stand up for what they believe in and let their voices be heard.
As a tribute to one of the most influential role models in my life and in the lives of millions of others, I offer this simple tribute to the great Maya Angelou:
MotherSisterFriend to all whose lives she touched, across the miles and around the globe, she reminded us of the importance of compassion, joy and hope.
Angel on earth – it's in her name – she embodied a heavenly spirit with words offering a protected, safe haven from life's struggles.
Youthful enthusiasm for life, no matter what age she was, she looked to each day as a gift.
Abundant Acceptance of all people, regardless of age, nationality, gender, race, social status, income level, education or orientation.
Advocate for society's nameless, faceless and voiceless; she recognized their plight and encouraged their voices to be heard.
Nurturing spirit, she guided us through the peaks and valleys of our lives and offered us an oasis of food for thought.
Grace, amazing, was her true essence, through which her every experience, revelation and celebration was revealed.
Eloquent words – volumes – embraced us and drew us into her comforting bosom for quiet reflection, a respite from busy or troubled lives.
Love and Light emanated from her soul, making people feel like they were worthy of loving themselves and also of being loved and valued.
Optimist for possibilities and potential, she rose above life's burdens to reveal the strength and tenacity of the human spirit.
United Nations embodied in one person, Maya Angelou represented the collective conscience of our global society.
May her light continue to shine in each and every one of us.