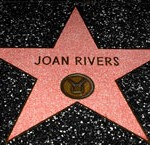 She had us in stitches for decades with her signature phrases like "Can we talk?" and "Oh, you don't know!" With the recent passing of Joan Rivers, people are learning much more about the feisty blonde from Brooklyn. Behind every jab or zinger was a woman who truly loved life, warts and all. In fact, it was the warts that were the most memorable. Through it all were some simple life lessons. Here are just a few.
Politeness doesn't pay. What did pay was her uncanny ability to discuss issues that nobody else would dare to talk about. Whether it was talking about a specific body part or fabricating a news flash, she would find a way to deliver her signature humor with great confidence and chutzpah. No topic was taboo to her.
Be an original. We hear a lot about the importance of authenticity and being yourself. Some of it is just babble. With Joan Rivers, she was the real deal. She not only walked the talk. She had swagger. While she attended a prestigious private college, she was the very antithesis of that lifestyle. There was nothing about her that was snooty or unapproachable. She didn't put on airs. She was real.
Don't take yourself too seriously. She encountered tremendous highs and lows in her life and in her career. She learned from life's lessons and became the Queen of Self-Deprecating Humor. She reminded us all to laugh our way through life, to laugh at ourselves and to not take ourselves too seriously. I can hear her saying, "Oh, get over yourself!"
Do what you love and do it well. She felt most comfortable in front of an audience. It gave her tremendous energy and joy. She poured herself into everything she did. It didn't matter what Joan did – stand-up comedy, (first female) late night talk show host, red carpet television critic, reality TV diva, Fashion Police TV show host or selling her fashion merchandise on QVC – she gave it her all and did it well.
Work hard, and smell those roses. It is well known throughout the comedy industry that Joan Rivers possessed an amazing work ethic. She worked hard. She also made time for her family. She worked side by side with her daughter, Melissa, as co-star in their reality show and as producer/co-producer in television ventures. She cherished her grandson and her close friends and always found time to have a conversation.
Be young at heart. When Joan Rivers won The Celebrity Apprentice 2 a few years back, she proved an important point: No matter what age you are, you can accomplish anything you set out to do. She ran circles around people half her age.
Small (just 5'2″) and mighty, Joan Rivers was a pathfinder for women and for female comics. No one will ever replace her. She will remain in our hearts forever.
Charlie Chaplin said, "A day without laughter is a day wasted." Thankfully, Joan Rivers never wasted a day.