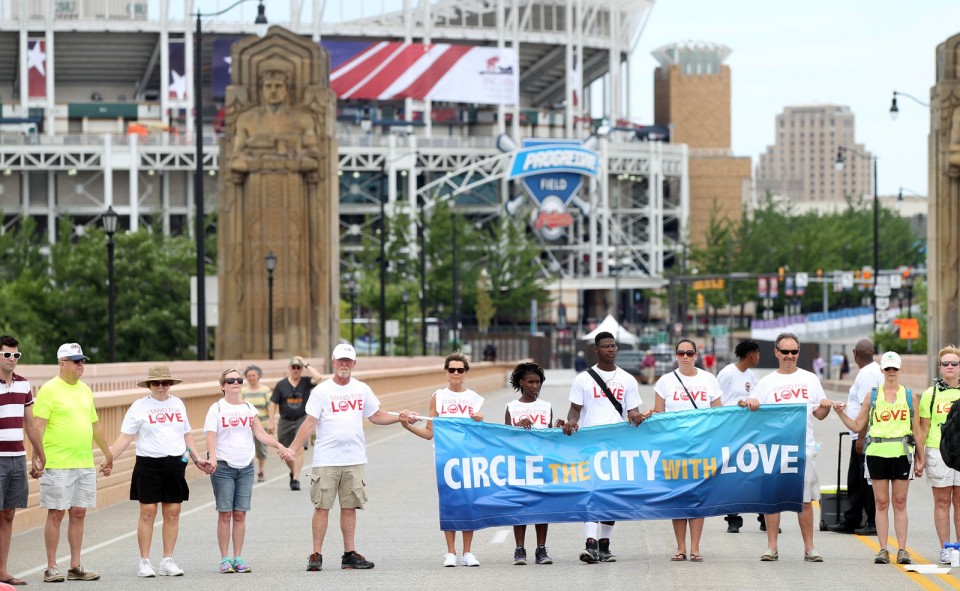 On Sunday, July 17, 2016, on the eve of the Republican National Convention in Cleveland, Ohio, I witnessed the power of unified silence by participating in Circle the City With Love, a 30-minute silent "stand" to show the world that with peace, love and unity, anything is possible. Standing with me was my husband, Mark, my sister Marianne and my brother-in-law Gene. Circle the City With Love was the idea of Sister Rita Petruziello, executive director of River's Edge, a sponsored ministry of the Congregation of St. Joseph on Cleveland's west side.
People from all walks of life, representing diversity in age, race, religion, lifestyle, economic background, and gender, joined hands as a sign of solidarity in bringing the Circle the City With Love message to the community, the nation, and the world. More than 2,000 people spanned the Hope Memorial Bridge, forming two lines across the historic 4,490-foot bridge. A group of about 30 police officers on bicycles received cheers of support and thank you's from the crowd as they rode across the bridge.
When the fog horn blew, indicating that the 30 minutes of silence had begun, people became quiet immediately. I found myself fully present and aware of every environmental sound and sensation, the breeze, the heat of the sun on my shoulders, the din of distant traffic. Within moments, I felt tears welling up in my eyes as I experienced firsthand the power of purposeful silence. I wasn't distracted by my usual "monkey mind" which is quite active, thinking of things to do. Rather, my mind was relaxed and at peace, joyfully demonstrating solidarity, unity, peace, compassion, love, and hope in action.
When the fog horn sounded to indicate the end of the stand, strangers embraced, hugged, shook hands, chatted a bit, and then went on with the rest of their day. Donning our Circle the City With Love t-shirts allowed us to identify our community anywhere in the city for the rest of the day. We didn't have to say a word, just simply nod, sending a nonverbal cue that we shared a common purpose.

Just one day prior, I had listened to Day 6 of Deepak Chopra and Oprah Winfrey's free 21-day meditation series, Getting Unstuck: Creating a Limitless Life. The message for that day was You Deserve More Than Second-Hand Experiences. A first-hand experience is one that you create for yourself, one that no one else can demand of you, one that reminds you, as Deepak suggests, that "I am the author of my day."
For me, the Circle the City With Love experience was a powerful, memorable first-hand experience. As a result, I am challenging myself to create more first-hand experiences that expand my perspective and worldview.
When you live a purposeful life, you gain more from it. As Henry David Thoreau said, "You must live in the present, launch yourself on every wave, find your eternity in each moment."
How are you rising above and becoming the author of your day?
Images: Joshua Gunter, cleveland.com.