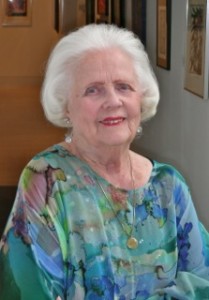 Today I raise my glass with heartfelt "Happy Birthday" wishes to my mother, Irene, who is 95. She is an atypical nonagenarian. She continues to inspire me through her active lifestyle and caring nature. Never shy about sharing her thoughts, feelings and opinions, here are a few gems of knowledge that she has passed on to me over the years:
Be curious. My mother's interest in others and the world around her makes her an engaging conversationalist. She can talk about literature, music, art, theatre, movies, poetry, politics, religion, world affairs, and just about any topic. Through my firsthand experience and observation of her interaction with family members and friends over the years, I have noticed that she is a master at inquiry and conversation.
Make smart choices. At the age of 19, trying to figure out what I wanted to do with my life, my mother offered me an important piece of advice: "The world isn't going to show up on your door step. You have to go out and meet the world!" In her words, she was telling me that in life you can choose to either be passive or active. The active approach ensures greater control and delivers better results than sitting and waiting for things to happen.
Serve others. One of my mom's favorite comments is "When you care, you're there." Throughout her life, she has attended every shower, wedding, calling hours, funeral, memorial service, birthday, anniversary or celebration that she was invited to. She has made and delivered food, crocheted baby blankets and given gifts. It doesn't matter if the recipient is a close family member or friend of a friend of a friend. If there's a connection, she is there. This simple advice can have profound impact on other people's lives.
Remain active. Each of us experiences diminishing physical, mental or emotional energy as we age. There are days when my mother will completely surprise me with her deep sense of determination. "Well, I couldn't sleep, so I got up at 4:00 a.m. and baked an apple crisp, then I went back to bed at 6:30." What?? I'm decades younger than she is and I have never done that. (And quite frankly I'm not sure if I ever will).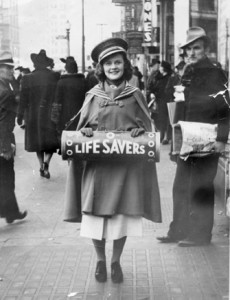 Do what you love. My mom worked as a Life Savers girl in the 1930s. As a naturally gifted singer, she served as church organist and choir director. She taught in the parochial schools, then moved into the public schools. My mom received her first Bachelor of Arts degree in elementary education at the age of 47 and her second B.A. in Painting at the "young" age of 80. She says that in every step of the way, she was called to do what she did in her work. She loved both music and teaching. As a retiree, she continues her love of gardening and painting. Lessons like these are around us every day. You just have to pay attention.
The next time you're feeling down or uninspired, think of the words that guide my mom through moments like that every day: "This too shall pass." Take a deep breath, be grateful for who you are and what you have accomplished in life, and carry on. Who knows? You may be privileged someday to be a nonagenarian and inspire others.