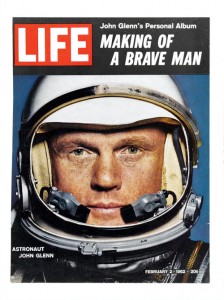 The word "gentleman" evokes a bygone era, yet, treasured American hero John Glenn reminded us through his actions exactly what the word meant. He was a gentleman and a gentle man.
As a native Ohioan, I was saddened to hear the news of John Glenn's passing. He has been part of my collective memory since I was a child. He was – and always will be – one of Ohio's greatest leaders, a dedicated public servant, and positive role model.
In his 95 years, he excelled in several careers: World War II and Korean War Marine pilot and decorated war hero, astronaut and space pioneer, NASA advisor, businessman, and U.S. Senator.
In 1962, he became the first American to orbit the earth. Thirty-six years later, in 1998, he returned to space aboard the space shuttle Discovery at the "youthful" age of 77 and became the oldest man to travel in space, another first. After retiring from the Senate the following year, he and his wife, Annie, founded the John Glenn School for Public Service at The Ohio State University. Glenn inspired us with a can-do attitude, built on traditional values of hard work, discipline, trust, honesty, and family.
"We are more fulfilled when we are involved in something bigger than ourselves." John Glenn
And so it was with John Glenn's life and career. He became a pathfinder and risk taker who explored the ultimate unknown frontier, space. The lessons he learned from space exploration served him well in his long career as a public servant.
There are certain qualities that come with the moniker of gentleman: Mannered. Polite. Diplomatic. Honorable. Courteous. The world could use a few more gentlemen (and gentlewomen too!) who possess the right stuff.
Glenn's death came during this holiday season, a time of year when we are closing out one year (a time for reflection) and beginning a new year (a time for planning). Take a moment to remember those individuals, like John Glenn, who were gentlemen and gentle men, who inspire and motivate us to reach for the stars and see what is possible.
Godspeed, John Glenn.